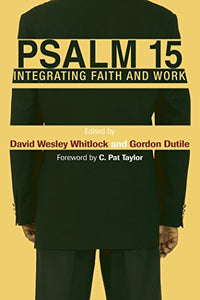 Psalm 15 begins with two related questions: "LORD, who may dwell in your sanctuary? Who may live on your holy hill?" (v. 1). These are questions worthy of our consideration as Christian business professionals seeking to integrate our faith and our work. The psalmist answers the questions with the following description: "He whose walk is blameless and who does what is righteous, who speaks the truth from his heart and has no slander on his tongue, who does his neighbor no wrong and casts no slur on his fellowman, who despises a vile man but honors those who fear the LORD, who keeps his oath even when it hurts, who lends his money without usury and does not accept a bribe against the innocent. He who does these things will never be shaken" (vv. 2-5, NIV).

Using this psalm as a basis, Southwest Baptist University's College of Business and Computer Science is devoted to educating "Psalm 15 professionals," who exemplify traits including integrity, service, respect, charity, faithfulness, truthfulness, humility, and perseverance. The devotions in this small volume draw readers' attention to the need for believers to exemplify such character traits. Contributions from the SBU faculty and administration remind us of the necessity to approach life and work with a biblical worldview. This volume is an abbreviated version of another Resource Publications book, A Noble Calling: Devotions and Essays for Business Professionals, also available from Wipf and Stock Publishers (www.wipfandstock.com).

"Too often, Christians attempt to compartmentalize life and live in a dichotomous world. 
Psalm 15: Integrating Faith and Work
 presents a compilation of devotions challenging the reader to develop a Biblical worldview for all facets of life, including ministry and professional careers. The contributors clearly show that spirituality should not be divorced from professional life. This book is an excellent source for professionals who desire to integrate faith with all aspects of life."
--C. Pat Taylor, President, Southwest Baptist University

David Wesley Whitlock serves as the Associate Provost, Dean of the College of Business and Computer Science, and Professor of Business at Southwest Baptist University. He holds BS and MBA degrees from Southeastern Oklahoma State University and a PhD from the University of Oklahoma. Other books by Whitlock include Opportunity: Introducing Free Enterprise and Business and A Noble Calling: Devotions and Essays for Business Professionals, which he coedited with Gordon Dutile. Both are available from www.wipfandstock.com.

Gordon Dutile serves as the Provost and Professor of Biblical Studies at Southwest Baptist University. He holds a BS from Louisiana Technical University and MDiv and PhD degrees from Southwestern Baptist Theological Seminary. Dutile is also the coeditor, with David Whitlock, of A Noble Calling.