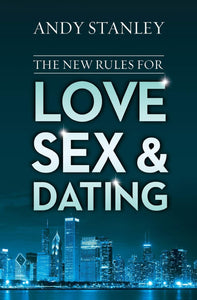 For anyone who is dating or thinking about marriage, pastor and bestselling author Andy Stanley shares practical, uncensored wisdom on avoiding mistakes in the present to help you avoid regrets in the future.
Single? Looking for the "right person"? Convinced that if you met the "right person" everything would turn out "right?" Think again.
In The New Rules for Love, Sex, and Dating, Andy Stanley explores the challenges, assumptions, and pitfalls associated with dating in the twenty-first century. This guide takes a fresh approach to dating and love in the modern era by turning the search for "the one" back onto the searcher, challenging you to ask yourself tough questions like:
Am I the person that the person I'm looking for is looking for?

Are the Bible's teachings about women relevant today?

If sex is only physical, why is the pain of sexual sin so deep?
As you dig deep into Stanley's answers, you'll be equipped and empowered to step up and set a new standard for this generation by uncovering the things that create trouble in dating relationships and creating better habits now that will pay off later as you dive into married life.