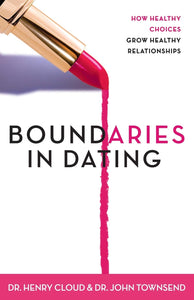 Dating can be fun, but it's not easy. Meeting people is just the first step. Once you've met someone, then what? Should you move on, pursue a simple friendship, or more? How do you set smart limits on your physical relationship? How much do you get involved financially? And how do you know if you've found your future spouse?
In Boundaries in Dating, Drs. Henry Cloud and John Townsend, counselors and authors of the New York Times bestseller Boundaries, answer all of these questions and more. Helping you bridge the pitfalls of dating, Drs. Cloud and Townsend share their practical advice for adding healthy boundaries to your dating life.
Boundaries in Dating unfolds a wise, biblical path to developing self-control, freedom, and intimacy. Let Drs. Cloud and Townsend help you get to know yourself, solve problems, and enjoy the journey of dating and finding your life partner.
Full of insightful, real-life examples, this much-needed book will give you the tools you need to:
Recognize and choose quality over perfection in a dating partner

Prioritize friendship within your relationship

Preserve friendships by separating between platonic relationships and romantic interest

Move past denial to handle real relational problems in a realistic and hopeful way

Enjoy this season of life
Don't forget to check out the Boundaries collection of books and workbooks dedicated to key areas of your life, including dating, marriage, parenting kids, raising teenagers, and leadership.